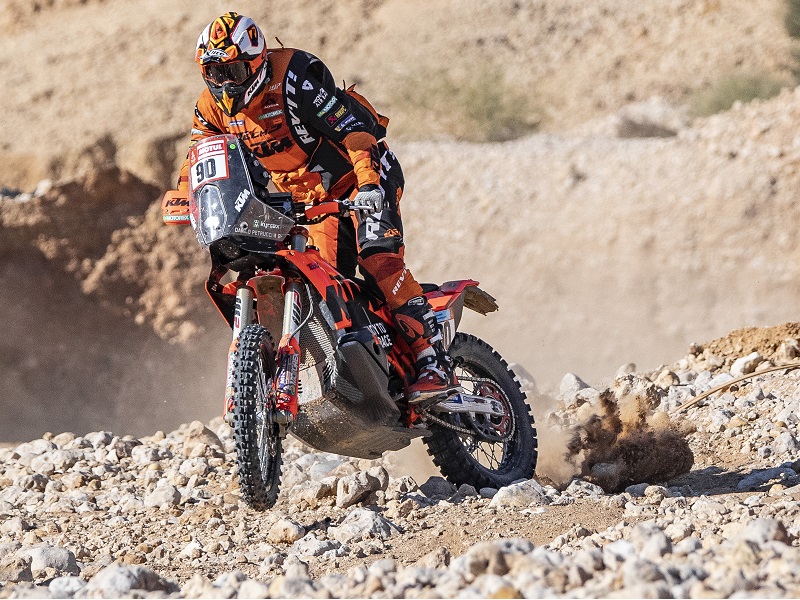 Donedavni MotoGP vozač ne prestaje oduševljavati. Ovaj put je pobijedio na brzincu, kojeg je započeo padam nakon što se umalo sudario s devom.
Na kraju 4. etape Danilo Petrucci je bio treći najbrži, ali je nakon toga dobio kaznu od 10 sekundi i službeno završio kao petnaesti. U petoj etapi je bio drugi najbrži, ali je službeno pobijedio, nakon što je Toby Price dobio kaznu od 6 minuta. I pobijedio je u idealnom trenutku, jer na idućoj etapi, za razliku od svih ostalih, onaj tko kreće prvi neće biti hendikepiran. Naime, motociklisti će voziti po etapi na kojoj su dan ranije vozili automobilisti (vrijedi i obrnuto), tako da će Petrucci imati tragove za slijediti i utoliko će onima iza njega biti teže uhvatiti ga. Doista, sve je veća šteta što je Petrucci odustao na drugoj etapi zbog kvara, i nakon toga dobio 11 sati kazne, tako da je trenutno tek 47. u ukupnom poretku.
Da priča bude zanimljivija, Petrucci je svoj pobjednički dan započeo tako da je iza jednog zavoja naletio na deve, pri čemu mu se baš jedna velika ispriječila na putu. Uspio ju je nekako izbjeći, ali je potom svejedno pao. Bilo mu je to tek prvi puta da je pao na reliju Dakar, što je tek malo manje nevjerojatna činjenica od one da je već uspio odnijeti i etapnu pobjedu. I to na etapi na kojoj su svi jurili žestoko, te su dotad ukupno osmi Skyler Hawkes i sedmi Joan Barrreda, kao pobjednik prethodnog dana, imali teške padove i možda neće ni nastaviti. Dan ranije je teško pao i ukupno vodeći Sam Sunderland, a danas i njegov GasGas kolega Sanders, koji je pritom iščašio rame, ali mu se ono samo vratilo na mjesto, pa je zadržao četvrto mjesto ukupnom poretku. Zapravo, bilo je toliko padova da je etapa prekinuta i prije nego što su svi prošli ciljem, jer je ponestalo medicinskih helikoptera.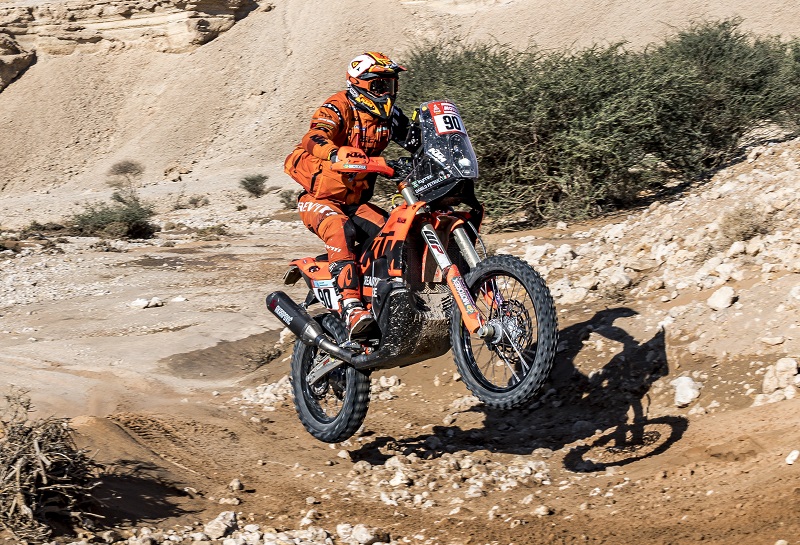 Inače, poredak prve šestorice se nije mijenjao, ali se zato Ross Branch s Yamahom (fotografija na dnu), kao drugi najbrži na etapi, probio do 7. mjesta. Slijedi još jedna etapa, pa onda dan odmora u subotu, uoči ulasku u drugu polovicu relija Dakar.
TRENUTNI POREDAK
(nakon 5. etape)
1. S. Sunderland – GasGas – 19h:01min.50 sek
2. M. Walkner – KTM - + 2.29
3. A. Van Beveren – Yamaha – + 05:59
4. D. Sanders – GasGas – + 8.01
5. L. Santolino – Sherco – + 15.27
6. P. Quintanilla – Honda - +16.55
7. R. Branch – Yamaha – 18.15
8. K. Benavides – KTM - + 21.51
9. S. Svitko – KTM - + 22.50
10. J. Barreda – Honda – + 22.58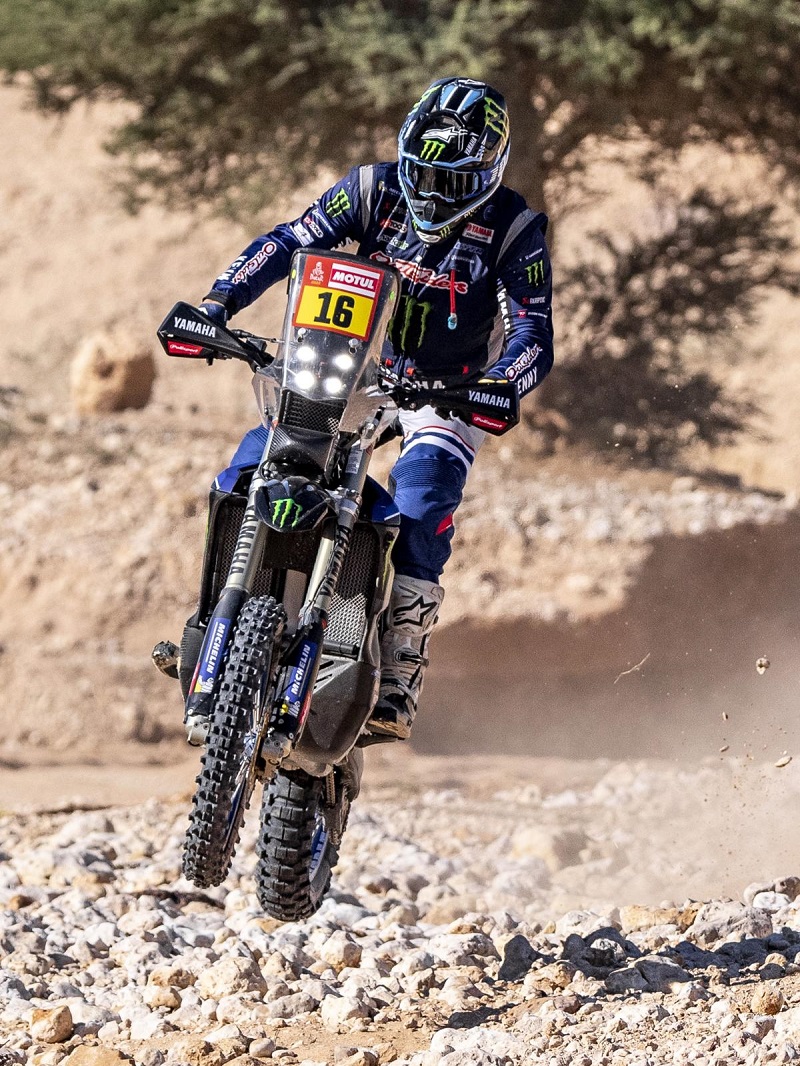 Motorcycle rental:
rentamotorcycle.motopuls.com